Welcome to my website.
I hope you will visit often to view my new artwork, teaching schedule,'how to do it' projects and hopefully *coming soon* video clips of art techniques that you may like to play along with.
I will also have an online shop with wonderful, hard to find, art goodies.
Paula Watkins's gallery contains 277 photos.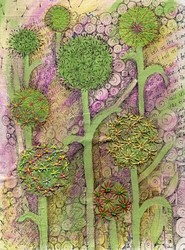 Gallery
Inspired by India

(Contains 6 photos)
Embroidery, Felt and illustration inspired by the magical textiles of India.
Illustration work.

(Contains 6 photos)
Illustrations for stories,greetings cards and prints.
Cut Shape Stitch

(Contains 1 photo)
Click here to order the book.
Recent artwork

(Contains 32 photos)
Some of my most recent artwork for sale.
Artwork for commissions

(Contains 8 photos)
These pieces of artwork can be commissioned to include your own vintage or new photos or details of a child's birth, christening or special occasion. more coming soon.
Altered Books and Handmade Books

(Contains 66 photos)
An Altered Book is a technique where an old unloved book which is destined for recycling becomes a piece of artwork. Watch this space for classes on how to make a book of your own.

Handmade Art books can be made from many materials including paper, fabric, recycled and vintage items, leather, metal and many more.
Artist Trading Cards

(Contains 26 photos)
Tiny pieces of art. There are only two rules: They must measure 2.5" x 3.5" and they must be traded, never sold. I will be teaching classes on the many techniques that can be used to make these very addictive cards.
Greetings Cards to order

(Contains 0 photos)
There is a huge range of greetings cards available to order. They can be personalised. View some of my samples and contact me if you have something special in mind.
Art work for fun

(Contains 37 photos)
Some of the results of my experiments, work for my art pals, and general messing around!
Gift for a Hero

(Contains 11 photos)
Altered box with silk fabric book
Products for sale

(Contains 0 photos)
Some of my favourite arty products.
Fabulous Felt

(Contains 25 photos)
I just love making felt. These are some of my recent pieces. More to come shortly
Round Robin Books

(Contains 17 photos)
The art work done by me in an altered children's board book and in the books of other European artists.The books are sent to each artist in turn and returned to their owner at the end. Techniques and materials inspired by the wonderful Tim Holtz.
Recent Artwork for sale

(Contains 0 photos)
Hand painted/printed fabric pictures with tranferred images. Approximate size:5"x5". Each one unique. Mounted. Unframed.
Altered Art Tins

(Contains 8 photos)
Tunnel Books

(Contains 17 photos)
Tunnel Books are made with pages which have holes so you can look through from the front to the back and each hole is made slightly smaller than the one on the previous page. This give the impression of looking through a tunnel. Images can overlap the holes slightly to give depth and interest.
Art made on Vintage Blankets

(Contains 12 photos)
The Monday Blanket Cub! Make time for yourself and spend one Monday a month learning to joyously stitch on blankets.
These hand embroidered and stitched collages all use beautiful soft vintage blankets as a base. They are so lovely to stitch on and are a piece of art and a comfort blanket all in one!
Hand dyed threads and vintage treasures make them even more lovely.
Embroidery

(Contains 5 photos)